OUR STAFF: Diane Tempest
Lindseigh Omichinski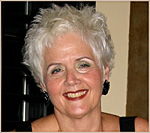 Diane Tempest I became interested in craft ('craft', the result of mastering materials and technique) about 20 years ago while traveling the world as a Group Tour conductor for several travel agencies in Sacramento, CA. I came to learn and appreciate cultures and regions of the world by the way they expressed themselves through art. A move to San Francisco 4 years ago dictated the closure of a gallery I owned and operated in Sacramento. For eight years, Blooming Art, was the premier gallery in the region for showcasing young, talented artists. Galleria Tempest is a continuation of that commitment to give emerging artists a venue in which to show their work. Aside from art, my other passions are my husband, children and grandchildren. I also can't live without music, dance, live theatre and cinema. I once owned a metaphysical bookstore and am a student of astrology. My most entertaining business venture was owning an Erotic Boutique. I am excited to be a part of the retail renaissance taking place on Polk Street. This is our neighborhood home, so I enjoy being a part of the community here. "Come visit us and enjoy a visual feast."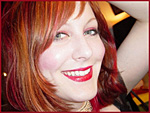 Lindseigh Omichinski Fun, witty, and vividly red-haired are three things that describe Lindseigh, the English Literature Major at San Francisco State University. She's been living in the SF Bay Area since 2000, and is not only proud to call the area her home, but is also totally thrilled to be working part time in one of the hippest arts and crafts gallery the city has to offer: Galleria Tempest. Aside from her scholastic endeavors, she lives with two insane felines, is addicted to espresso drinks like there's no tomorrow, loves discussing art with people, and enjoys being a photographer and writing satire.